The Perfect Fitness Solution
Phil Campbell's new book, SPRINT 8 CARDIO PROTOCO
he unlocks the secrets of short-burst,
maximum-effort, sprint-intensity cardio so you
get superior results FAST!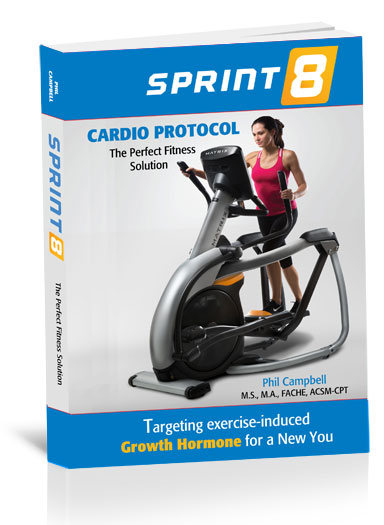 Sprint 8 Cardio Protocol shows readers sprint-intensity cardio targeting exercise-induced growth hormone to create a NEW YOU with more energy.
A new you with improved cardiovascular fitness. A new you with less body fat, more muscle and stronger bones. A new you with enhanced optimism. And a New You with better health.

.

The science-based Sprint 8® Cardio Protocol is proven
to significantly boost energy, reduce body fat, promote lean
muscle and improve cholesterol in just eight weeks.
Sprint 8 is the most revolutionary training tool to come along in decades.
Phil Campbell has come up with the answer to the pressing issue of the poor physical condition of the average person today. What's more, Sprint 8 is also a tightly condensed routine, so that it fits into the busy person's harried time frame. That mix - a training routine that works and is short - is a winning combination. It is amazing to be able to get significant results from a program that lasts only 20 minutes in duration, but Phil has put such a program together with Sprint 8 and he has spent 40 years researching, testing and perfecting his cardio protocol.
Sprint 8 comes at the fitness arena from a totally different angle than other training programs. The Sprint 8 program enables whoever uses it to engage the key element that changes the body similar to injecting banned performance enhancing drugs, human growth hormone, naturally. Most workout routines come up short on this critical issue or miss it altogether but Sprint 8 successfully fires up human growth hormone in the body, creating significant positive change for people of all ages.
Sprint 8 is an entirely different approach than those that most programs employ. It gets people not to just work intensely, but it forces people to recruit both types of their fast-twitch muscle cells, an area many other programs ignore, and simply don't apply the science. The Sprint 8 Protocol has been carefully crafted over 40 years to recruit all three muscle fiber types thereby conditioning the anaerobic and aerobic processes of the heart muscle in many different ways that can be done by anyone at any age. Sprint 8 can be used for a lifetime. - by Dwayne Hines, II, CPT*
Oprah's O Magazine calls Sprint 8
The Fastest Working Workout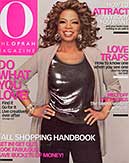 Self Magazine recommends Phil Campbell's Sprint 8 cardio program to
"blast fat fast, even on the busiest day."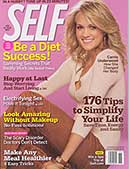 Sprint 8 featured in



Sprint 8 Research here

"I have to tell you that Sprint 8 has been GREAT for me. Sprint 8 is now a part of my lifestyle. I do Sprints 8 every other day without fail, and it feels great. I can see the results I am leaner than I've been in a while, have more energy, and just feel better in general. THANK YOU so much!!!! - Yvonne Blake*, Arizona Health, L.L.C.**(Results may vary)
"After not quite 3 months on your program, I've now burned about 19 pounds of fat, added about 4 pounds of muscle, and cut body fat by almost 6 percent. My cholesterol dropped 70 points!"- Terry Bazyluk*, Writer/Lawyer, Maryland **(Results may vary)
Recommendation from Dr Mercola here
"I now understand why even the best diet and regular weight lifting weren't working. With a few tweaks to my workout program (and no more time involvement), I have twice the energy and feel more toned than I've felt in a long time." -Nan Allison*, MS, RD, Author of Full and Fulfilled **(Results may vary)
Sprint 8 on Matrix Fitness
here
Phil Campbell's Sprint 8 Research Study here
Phil Campbell is not trying to sell you anything except a longer, healthier life. A terrific concept, easy read, and a welcomed addition to a health and fitness library filled with more style than substance. This is the real deal. - Keith Murphy*, NBC Sports Director, Des Moines **(Results may vary)


I am truly amazed at the results in such a short period of time!
- Wayne Key*, chiropractor **(Results may vary) - See full story here


"Your knowledge of physiology, biomechanics, and training technique is impressive. I am most impressed with your application of these principles in what is a truly remarkable, creative, and innovative way."
- Dr. John E Midtling, Professor and Chairman - Dept of Family Medicine, University of Tennessee
Different ways to do Sprint 8 here

**Testimonials are individual experiences reflecting personal experiences of those who have used our information and programs.Results may vary. More info on disclaimer here
"My Fit Campers love Phil and the Sprint 8. His book is the bible of Fit Camp. His program can take you to the next stage of fitness regardless of your current fitness level." - Greta Blackburn*, Editor, Ms. Fitness Magazine and Founder of Greta Blackburn's FITCAMPS
**(Results may vary)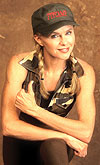 Experience motivational presentations and group training sessions by Phil Campbell during Greta Blackburn's Fit Camps.
More info here

See our Privacy & Secure Shopping Policy here